---
Welcome to the Tampa Bay Chapter of Catholic Schoolhouse!
Are you looking for a classical Catholic program?
Do you desire a consistent, Catholic peer group for your children, the kind that builds lasting relationships and encouragement?
Do you feel burned out and are looking for ways to bring joy back to your homeschool?
Do you feel like you are juggling too many things and missing family unity?
Would you like to meet other parents with like-minded goals to share your journey?
Classical. Flexible. Accessible.
Catholic Schoolhouse is designed to help homeschool families enrich their educational experience through a flexible approach to learning inspired by classical elements, presented in a structured environment.  The whole family has a place at Catholic Schoolhouse!
Families can use our program to anchor their entire week or as an enrichment day. Outside of class, families have the freedom to use curriculum that best meets the needs of each individual child. If families elect to follow the classical model, we provide a resource guide and walk them through the elements available, giving parents complete control of what they would like to incorporate into their homeschool.
All Ages
Preschool and kindergarten students (ages three – five) participate in our Pre-Grammar class which includes all of the elements of our Grammar program.  Children kindergarten through sixth grades are in the Grammar program and study the same topics,  delving deeper into the material as they grow older.  Grammar students are separated into different classrooms based on age.
Dialectic (seventh-ninth) and Rhetoric (tenth-twelfth) students have opportunities for discussion, logic development, composition and speaking, while staying focused on the fine arts and history time periods of the tour guide.
We also offer a nursery for younger children as needed.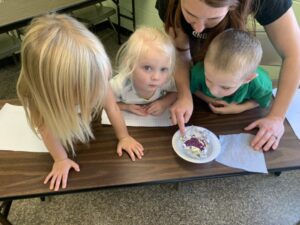 Catholic Schoolhouse is more than a day out of the house; it can help bring structure and cohesiveness
to your entire homeschool experience and will bless you and your family. 
For more information, please visit catholicschoolhouse.com.


Catholic Schoolhouse is loyal to the Magisterium of the Roman Catholic Church and has received the nihil obstat and imprimatur for all three Tours of our curriculum.